Montego Bay is more than just Jamaica's 'second city' – it's the tourist capital! But for those of us who live where you vacation, sometimes it's hard to find fun-filled activities outside the ivory towers of all-inclusive hotels. Don't worry – I've compiled a list of budget-friendly (aka FREE) things to do in and around Mobay, for locals and tourists alike.
7. Take a Stroll on the Hip Strip
Recently re-named Jimmy Cliff Boulevard (previously Gloucestershire Avenue) the Hip Strip is home to Montego Bay's lively tourism crowd. From nightlife to food spots with amazing views of the sunset and friendly crowds on yachts – the Hip Strip has you covered. Approximately 2km in length, it's perfect for an afternoon stroll that includes park views, historic buildings, and of course gorgeous views of the Caribbean Sea #nofilter. Bonus! – the Hip Strip is also home to three other activities on this list.
6. Have a Picnic at Old Hospital Park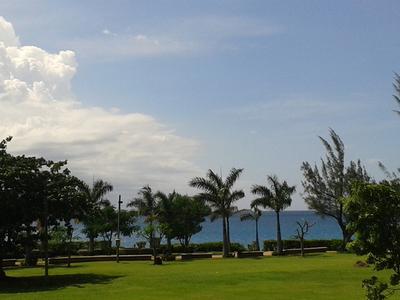 Refurbished about five years ago for a whopping $10M JMD, the Old Hospital Park on the Hip Strip has become the number one family-friendly chill spot. With no entrance fee, wide open green spaces dotted with covered gazebos and elegant palm trees it's the perfect picnic spot. The sheltered location set below the bustling roadway is idyllic, complete with pink AND yellow poui trees. Romantic couples and families with small children can often be found whiling away the hours here and enjoying the beautiful view.
5. Make a Splash at Margaritaville
It's always 5 o'clock at Jimmy Buffet's Margaritaville, and it's always free. Like its counterparts in Negril and Ocho Rios, Margaritaville Montego Bay has no fee for entry. Make a splash with their 120ft water slide that dunks you right into the blissful blue waters, and then have a blast on their aqua park with trampolines, swings and more. Refreshments come at a cost, but after a day like that it's totally worth it.
4. Enjoy a Movie in the Park
You didn't think we were done with the Hip Strip? Last Fridays of the month are movie nights with Movies in the Park, a family-oriented event sponsored by non-profit enterprise I Love Mobay. Serving up gems like The Lion King and Alice in Wonderland (with free popcorn for the first 200 children!) it's a modern day version of drive-in style movie theatres. Just make sure to BYOB (bring your own blanket)!
3. Hang Out at Whitter Village
Whitter Village in Ironshore is technically on the outskirts of Montego Bay, but it's easily accessible by taking an Ironshore taxi (or driving along the A1 highway). Designed to exude a classical cottage aesthetic, Whitter Village caters to residents of the surrounding communities as well as tourists from the neighbouring hotels. Boasting a variety of restaurants (Rolly Polly!), entertainment options (bowling!) and chic fashion outlets (David and Subs!) and complete with its own gazebo and water feature Whitter Village is a great spot for a chill day hanging out.
2. Retreat to Reading at the St. James Parish Library
If you're more of an indoors-y person, don't worry we've got you covered. The St. James Parish Library is conveniently located in downtown Montego Bay, stocked with thousands of volumes for you to get lost in. There's a children's section for young ones, and a Restricted Section that's a little more quiet. Like many of our historical buildings, the library's entrance features a bust of one of our National Heroes the Rt. Excellent Marcus Mosiah Garvey. The library grounds are also a popular hangout spot for teenagers, especially on Saturdays.
1. Dip Your Toes in a Free Beach (or three!)
There's no way to write a list of free activities in Montego Bay without including the beach! Even though most of our beaches are privatized, a few choice spots still remain for the intrepid traveller (who wears their swimsuit under their clothes). Dead End Beach located at the very end of the Hip Strip (just behind Sangster's International Airport) is a sandy, shallow swimming area, popular with small children. Should your daytime activities pique your thirst a cold Red Strip is readily available from the Dead End Beach grill and bar just across the road.
A little bit further up the road across from Sandals Hotel is a small cove of coastline (not pictured) that's also free of charge. Despite it's humble size, this beach gets very deep very quickly making it a popular area with the early morning swimming crowd. It can get crowded on holidays and weekends, but there's always enough space for one more beach towel.
Finally, our last free beach in Montego Bay is the One Man Beach, located just beside Old Hospital Park (across the road from the Soe Htwe Pharmacy and Medical Centre – yes there's a medical centre on the Hip Strip). The sand here is a little more coarse, and the water a little more full of seaweed, but this beach is nestled between protective jetties that frame the horizon picture perfectly!
From beaches to books, movies to Margaritaville, I've shown that Montego Bay can be enjoyed without breaking the bank. There's a wealth of beauty to be discovered here, even without swiping a card. Make sure to like and share my post if you learnt something new about Montego Bay!
Pax~